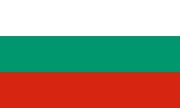 Bulgaria is a country in Southeast Europe. It shares borders with
[1]
Greece
,
[2]
Republic of Macedonia
,
[3]
Romania
,
[4]
Serbia
[5]
Turkey
.
Currently in e-sim Bulgaria possess the following 6 regions:
Sofia (capital)
Vidin
Ruse
Varna (can be attacked during Sailor's week)
Burgas (can be attacked during Sailor's week)
Plovdiv
In primera high region is Vidin with grain.
In secura high region is Plovdiv with stone.
In suna high region is Vidin with iron.
In europa high region is Burgas with diamonds.
In primera server Bulgaria has one of the oldest MU's - Love's Units. The MU was founded by dr love, who was for a long period of time top player on total damage in the server.
Ad blocker interference detected!
Wikia is a free-to-use site that makes money from advertising. We have a modified experience for viewers using ad blockers

Wikia is not accessible if you've made further modifications. Remove the custom ad blocker rule(s) and the page will load as expected.