The Legend of Dreier
Edit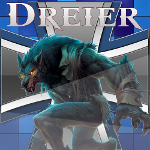 Born: Day 726
Country: Germany
Political career
Edit
CP of Germany multiple times, Leader of many alliances and a congress member several times.
Other roles: MU leader of the Bundeswehr (Germany) und German Strikers (Germany)
Particular title: "Political Hero", "Richfag", "horror of the world" , "Battel Tank", "Buff bitch"
Head money: Lithuania 100 Gold
Specific comments
Edit
The name Dreier is famous in e-sim in good and in bad things. He made his name in many countries.
Mainly in countries like Lithuania, Italy, France and Poland
Articles
Edit
Dreier wanted dead or alive http://primera.e-sim.org/article.html?id=82793
Dreier's Lovestory http://primera.e-sim.org/article.html?id=87615
Ad blocker interference detected!
Wikia is a free-to-use site that makes money from advertising. We have a modified experience for viewers using ad blockers

Wikia is not accessible if you've made further modifications. Remove the custom ad blocker rule(s) and the page will load as expected.