Grain in general
Grain is raw material used in food companies. To use grain in your company, all you need to do is simply have some in your inventory.
Grain is produced in grain companies. You need to create a grain company in a region that has medium or high grain deposits.
Buying grain
If you do not have the means of producing your own grain (i.e. by owning a grain company), you can buy them on the product market.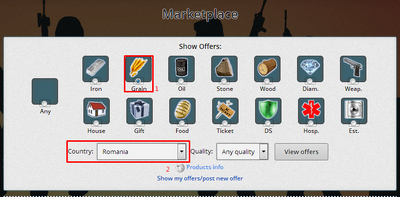 Simply follow these steps: Market » Product Market » Select Diam.(1) » Choose the Country(2) from wich you whould like to buy them » Click on View offers » Buy the required amount
Regions rich in grain
There are 11 high and 13 medium grain regions at the moment.
High grain regions
Bengal Coast
Canada East Coast
Central Ukraine
Saaremaa-Hiiumaa
Eastern Visayas
Friesland-Flevoland
Koh Kong
Kalimantan
Northwestern Peru
Pelagonia
Styria Carinthia
Southland
Western Russia
Western Transdanubia
Mindanao
Medium grain regions
Alsace Lorraine
Dalmatia
Eastern Vidzeme
Galicia
Herzegovina
Jamtland
North Chungcheong
Northern Ireland
Pacifica
Parana and Santa Catarina
Sicily
South China
South Bohemia
Ticino-Grisons
Varna
Viciebsk
West Thailand