Iga riik E-Simis omab kongressi, mis on valitud riigi kodanike poolt.
Üldised Reeglid
Edit
Esimene kongress on tekkinud 20- st esimesest inimesest, kes riiki registreerusid.
Maksimum kongressi suurus on 20 liiget.
Iga kongressiliige saab teha 10 seadust oma kongressi valimiste ajal.
Selleks et avaldada seadust, peab kongressi liikmel olema 50% partei liikmete kongressi kanditatuuri hääli.
Võitja kanditaat saab endale kongressi liikme medali ja 5 kulda. Nad isegi saavad ühe XP iga seaduse eest mis kasutusse läks.
Kui kongressi liige lahkub, siis teda ei saa asendada ja kongressi level läheb alla poole.

Seadused, mis antakse välja kongressi poolt
Edit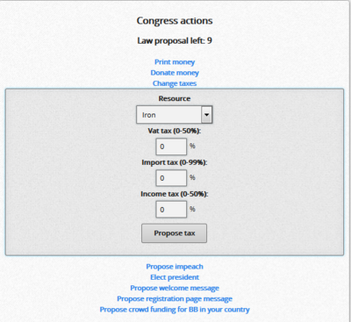 Ad blocker interference detected!
Wikia is a free-to-use site that makes money from advertising. We have a modified experience for viewers using ad blockers

Wikia is not accessible if you've made further modifications. Remove the custom ad blocker rule(s) and the page will load as expected.