* Mobilizacija Bosne i Hercegovine *
* Pozdravljam sve igrače naše Republike Bosne i Hercegovine * 
* Želim da naglasim da sam bio aktvini urednik lista " Bosanski otpor " u kojem sam prije otprilike dvije godine komentarisao tadašnju vladu , njen rad , kao i svakodnevne bitke i dešavanja u našoj Zemlji.
Ono što sam primijetio nakon mog povratka je to da su mnogi igrači odustali od igre i da nas je ostalo veoma malo.Želim svojim doprinosom da oživim našu državu i naše igrače s jednim velikim apelom na sve preostale igrače na igrici.Želim da skrenem pažnju na sve da krenu pozivati igrače tj. gradjane koji su igrali i prije kao i novajlije kako bi zajedno pokrenuli naše društvo i ponovo postali velika sila na balkanu kao i u Evropi. 
* Želim i da naglasim da smo bili strah i trepet drugim državama * 
* Bili smo prva ekonomska sila u Evropi * 
* Imali smo najviše gradjana * 
* Nama u prilog ide i to da imamo mnogo prijatelja s kojim bi mogli sklopiti savez i krenuti ka boljoj budućnosti * 
* Još jednom poručujem svima da počnu raditi na oživljavanju našeg društva i države ! * 
* ŽIVJELA REBULIKA BOSNA I HERCEGOVINA *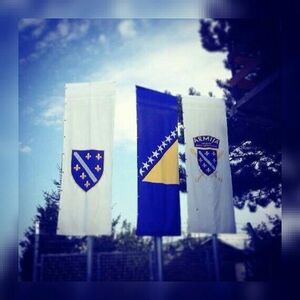 *Urednik : Bosanski Tenk 
Ad blocker interference detected!
Wikia is a free-to-use site that makes money from advertising. We have a modified experience for viewers using ad blockers

Wikia is not accessible if you've made further modifications. Remove the custom ad blocker rule(s) and the page will load as expected.