El periódico es un lugar en el cual se puede dar a conocer información sobre diferentes categorías que hagan referencia a la realidad actual por la que pasa tu país, un acontecimiento global, un tema de interés o sencillamente lo que quieras exponer.
Así como en la vida real, los medios de prensa pueden influir de manera tanto positiva como negativa en las personas, lo mismo sucede en e-Sim, donde tú puedes decidir que enfoque darle a tu periódico para llegar a lectores específicos o masificarlo por todo e-Sim.
¿Cómo crear tú periódico? Edit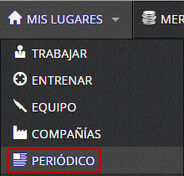 Para crear tu periódico necesitas ir a "Mis Lugares" del menú superior de e-Sim y Dirigirte a "Periódico".
Una vez allí solo resta agregar el nombre de tu periódico y el avatar que tendrá (procura eligir con cuidado y que estos representen lo que quieres entregar)

Cabe destacar que la creación de tú periódico tiene un costo de 2 de oro.

Esfuérzate en hacerlo lo mejor posible si es el campo por el que quieres triunfar, tener bastantes suscriptores a tu periódico te puedo dar fama y reconocimiento en tu país y porque no ser el paso para poder convertirte en el Presidente de algún Partido Político, llegar a ser Congresista e inclusive a Ser el Gobernante de tu Nación.
Ad blocker interference detected!
Wikia is a free-to-use site that makes money from advertising. We have a modified experience for viewers using ad blockers

Wikia is not accessible if you've made further modifications. Remove the custom ad blocker rule(s) and the page will load as expected.