President on riigipea, keda valitakse elanike poolt. Ta tegeleb riigi välispoliitikaga ja millitaarjaga.
Üldised Reeglid
Edit
Kodanik saab kanditeerida Presidendiks ainult enda koduriigis. (Koduriik on see, kus sa kodanik oled)
Iga riigi President saab esitada 5 seadust igas 24- jas tunnis.
Kui presidenti on kahtlustatud, siis järgmiseks Presidendiks saab see, kes oli teisena valimistel

kõrgeima häälega.
Kui riigil pole Presidenti, siis riik saab end üleval pidada ainult seadusi tehes.
Riigi President olemine tähendab raskete ülesannete täitmist. Kodanik, kes saab Presidendiks peab olema nõudlikul positsioonil E-Simis.
Valimised
Edit
Valimiste kohta leiad infot vajutades siia.
Presidendile Saadavad Seaduse Ettepanekud
Edit
President saab esitada maksimum 5 seadust päevas.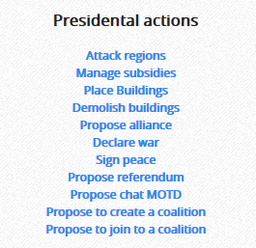 Ad blocker interference detected!
Wikia is a free-to-use site that makes money from advertising. We have a modified experience for viewers using ad blockers

Wikia is not accessible if you've made further modifications. Remove the custom ad blocker rule(s) and the page will load as expected.