Miks sa võiksid töödata?
Edit
Iga kord kui sa töötad, saad sa selle eest raha enda konto arvele. Sinu majandus oskus suureneb ja kui sa oled 30 korda töötanud, siis saad sa Hea Töötaja Medali.
Kuidas Töötada?
Edit
Sa pead vaatama ülalt menüüst Minu Kohad ja valima teemaks Töö.
Majandus Oskus
Edit
Iga kord kui sa töötad, siis sinu majandusoskus kasvab. Mida kõrgem sinu majandusoskus on, seda kõrgem on sinu tootlikus level. Mida kõrgeim majandusoskus- seda rohkem tooteid saadaval on.
Majandusoskuste Astmed
Edit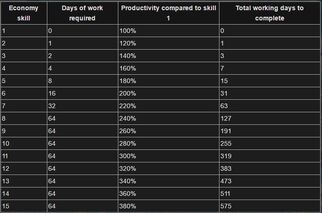 Kuidas Leida Tööd?
Edit
Selleks et leida tööd, mine: Turg--> Töö Turg.
Vali kärgeima palgaga töökoht soovitatavalt, palk oleneb sinu majandusoskusest.
Ad blocker interference detected!
Wikia is a free-to-use site that makes money from advertising. We have a modified experience for viewers using ad blockers

Wikia is not accessible if you've made further modifications. Remove the custom ad blocker rule(s) and the page will load as expected.