Reģionam uzbrukt var valsts prezidents izmantojot valsts kases 10 zeltu + 10% no aktīvajiem iedzīvotājiem (zeltā)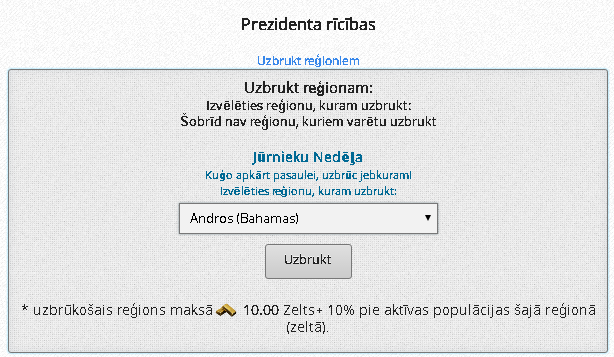 Uzbrukšanas noteikumi
Edit
Lai uzbruktu reģionam ir jāizpilda sekojoši noteikumi:
-Jābūt aktīvam karam starp valstīm (piemēram, Latviju un Krieviju).
-Nedrīkst būt aktīvai kaujai tajā reģionā.
-Uzbrucējam jābūt kara priekšrokai.
-Uzbrucējam jābūt pietiekami daudz zelta, lai uzbruktu reģionam.
-Uzbrucējiem jābūt robežai starp uzbrucēju un uzbrūcamo.

Var uzbrukt tikai ienaidnieka vienam reģionam tajā pašā laikā t.i. nevar atvērt divas kaujas uzreiz vienam ienaidniekam.
Piezīme; Valsts var saņemt uzbrukus uzreiz no vairākiem ienaidniekiem, tā pat arī valsts var uzbrukt vairākiem ienaidniekiem vienlaikus.
Ad blocker interference detected!
Wikia is a free-to-use site that makes money from advertising. We have a modified experience for viewers using ad blockers

Wikia is not accessible if you've made further modifications. Remove the custom ad blocker rule(s) and the page will load as expected.